SMAKY PERFORMANCE MIXERS
The perfect mix
Whip up savings with Smaky´s family of heavy-duty mixers. Powerful custom-built motors, gear-driven transmissions, rugged construction and dependable operation will provide you with years of reliable performance at fraction of the cost of competitive mixers. Whether a high-volume bakery or a pizzeria, mixing delicate meringues or a tough dough, Smaky Mixers give you that perfect mix – all backed by superior warranty. Try one in your facility and see for yourself why a Smaky Mixer is the main ingredient!
Solidly built… Proven Reliability
Durable, tough, and built to last are qualities that make Smaky Mixers the best solution for your mixing needs.
Smaky´s rigid cast iron construction ensures years of use in tough environments.
SMAKY Quality
Built into each mixer is the quality of workmanship and design synonymous with Smaky.
The precision-crafted motors and gears lead to dependable operation day after day.
Smaky´s  commitment to quality protects your investment for years to come.
Low cost of Ownership
Smaky Mixers are priced to provide  significant savings over other brands.
A proven design plus solid construction equals years of reliability.
Each Smaky Mixer is backed by superior warranty.
READ MORE
Custom Built Motors… Proven Tough!
Tough mixing jobs are no match for Smaky´s powerful and specially designed custom built motors.
Overload protection relays prevent the motor and transmission from being damaged during an overload situation.
Transmission Gears and Shafts…
Precision & Power
Smaky´s hardened premium alloy steel gears and shafts are unsurpassed for extra strength and durability.
Smaky uses advanced machinery techniques on the gears and shafts to enhance their durability for long lasting, trouble free performance.
High torque, permanently lubricated gear transmission easily handles peak operating demands while providing quiet operation.
Dependability for the industry's demand for ease of operation
Separate start and stop buttons, a 15-minute timer, and attachment hub are front mounted for easy access, efficiency, and safety.
Ingredient Chute… Stays in place
Exclusive welded ingredient chute will never become misplaced, lost, or dislodged from the mixer while adding ingredients without taking up additional kitchen space.
Warranty
1 year standard warranty is included in each mixer and mincer
A total 3 year unique warranty for transmission parts included in mixer models with size 10 qrt up to 80 qrt provided that the using instructions are followed strictly.
Mixing Bowl Securely Held
Unique spring-loaded bowl in place, reducing bowl rocking and agitator damage while providing quiet operation.
Cleaning ability… Low maintenance
Stainless steel bowl, wide-open base, and CE  approved finish are designed for quick and easy cleaning.
Gear transmission has maintenance free, permanent lubrication.
Safety Always First
Safety interlocks reduce the risk of operator injury when the bowl guard is open or the bowl is lowered.
Separate start and stop buttons are front mounted and easily accessible.
Industry's best value!
Easy to carry mixing bowl
Ideal bowl handle design allows the operator to get a secure grasp of the handles to comfortably lift and transport the mixing bowl.
Small Footprint… Size is Important!
Smaky´s larger capacity mixers are ergonomically designed with a lower working height, which improves operator convenience and saves valuable kitchen space.
Mixer footprint requires significantly less floor space than competitive brands.
A complete Standard Package… No extra cost!
Every floor model Smaky Mixer includes:
♦flat beater    ♦stainless steel wire whip   ♦spiral dough hook   ♦stainless steel bowl   ♦15-minute timer   ♦rubber feet     ♦industry standard #12 attachment hub.
The 60 and 80 quart mixers also include a bowl truck to use for easily transporting mixed batches.
Optional Accessories
By utilizing the attachment hub, the 10 to 80 quart mixers become versatile food processors.
Smaky´s Mixer attachments enable you to slice vegetables, grate cheese , and grind meat.
Reduction kits and bowl scrapers are available for all floor model mixers
to help increase productivity and provide more consistent product results.
For more information contact us.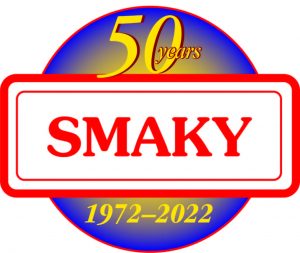 Our unique 3 year warranty is applied on 10,20,30,40,60 and 80 qrt mixers
EXHIBITIONS
We will finally be returning to Host in Milan after the pandemic!
Welcome to visit us in Hall 4P; booth C01.